It is 5am. You are on your way to the establishment to get in the line for document requests. You need that pertinent document for your passport application. "It's still very early and surely I will be the first in line," you certainly mumbled, smiling and so sure. Ten minutes later, you arrived infront of the establishment. Your jaw dropped. About 20 people are already in the line.
This scenario might be the usual thing for all of us. Well, it is not surprising since you are not the only one who needs to request some documents. There are people who have to work abroad and need to request birth certificates, perhaps. There are people who have to enroll in the university and they are asked to submit birth certificates. There are couples who want to register for marriage and they need certificates to prove they are single. These are common reasons people line up. However, that is already a thing of the past. At present, you can already request birth certificates, certificates of no marriage record (CENOMAR), marriage certificates, and death certificates ONLINE.
The very good thing about new and modern technology is getting what we need in just one click. Another good news for all of us is that almost all government agencies and private establishments extend their services online. Personally, I appreciate this new method because reality-check I am also a busy person who cannot easily process over-the-counter. Two years ago, I tried requesting a copy of PSA (Philippine Statistics Authority) – authenticated birth certificate for my passport application online and it arrived only a few days after. I said, "Woah, this is very fast and convenient."
Last night, I visited the same PSA Helpline website and I found that only after a few months, the site has become more user-friendly. PSA Helpline is a PSA-authorized service provider of online requests and nationwide delivery of certificates. If you are someone who has to request online, let me tour you around their website and how to request your document.
1. First, you have to access PSA Helpline through https://psahelpline.ph. It displays the certificates you may request from PSA Helplines, their definitions, on how they would deliver it and how many days it would take both within Metro Manila or in the provinces. Once you access the site, a PSA Birth Certificate Online Application and Delivery window will appear. Then, click Order Now.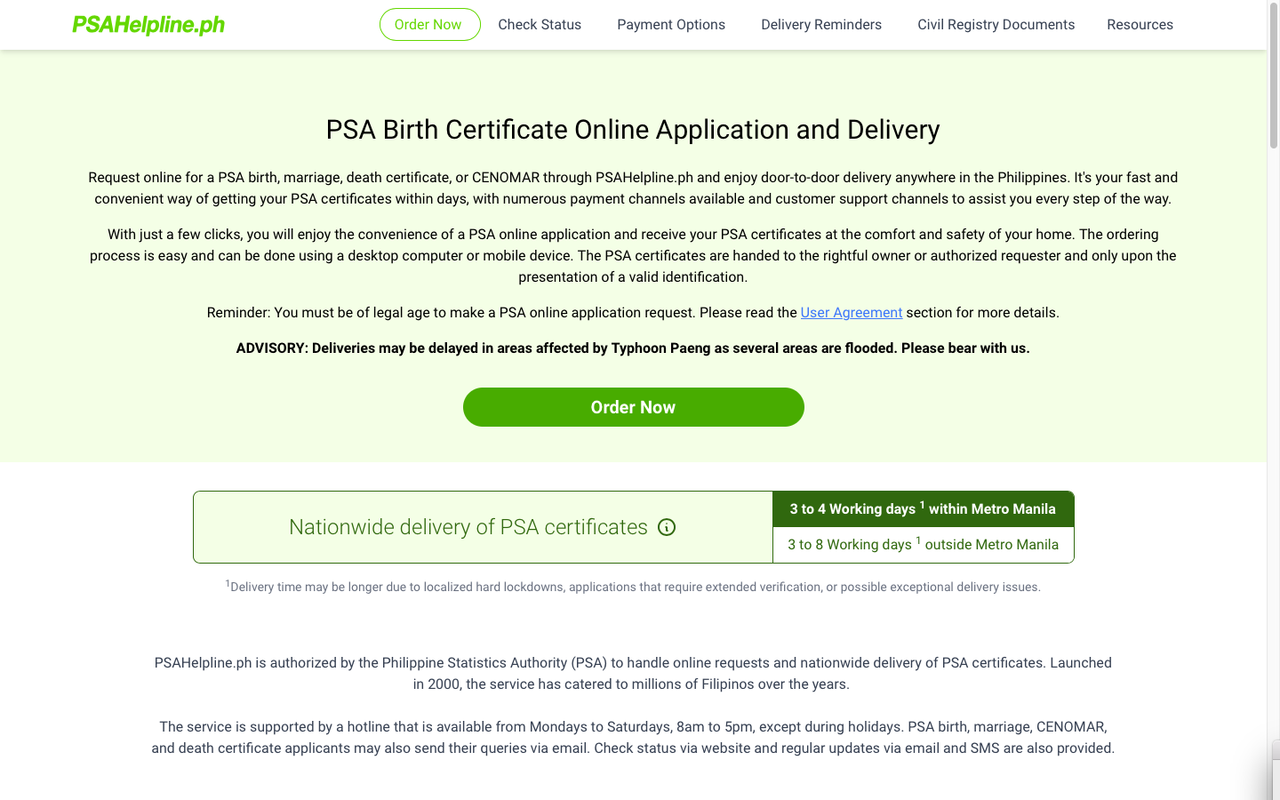 2. This window will then appear. You have to choose the Certificate type, whether it is Birth Certificate, Marriage Contract, CENOMAR, or Death Certificate. Then tap check on the box beside "I accept the Terms and Conditions and Privacy Policy."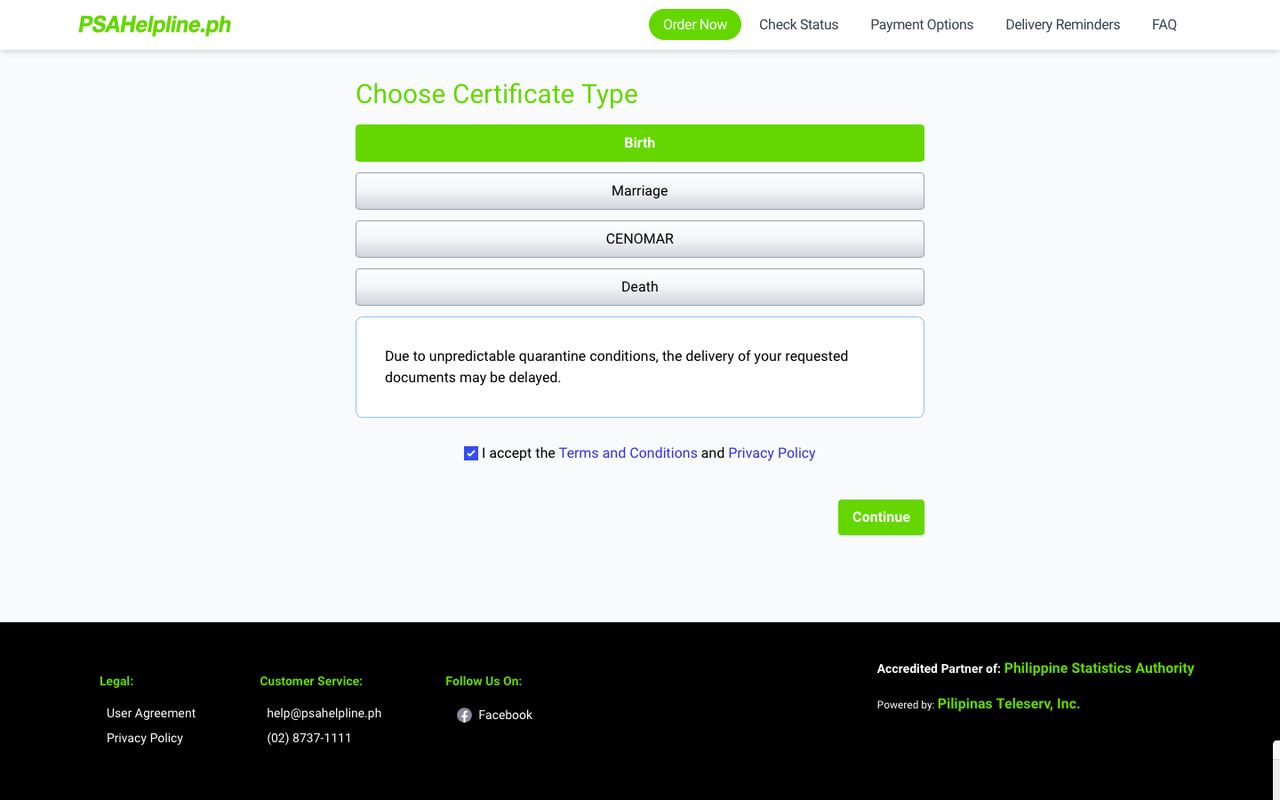 As for me, I requested Birth Certificates. Right after that, another window will appear. It basically says about the document you are requesting for. If there were changes made to it before, or have you tried requesting before. For me, I clicked No for Item 1 and Yes for Item 2 since I have requested 3 copies of my birth certificate before for my passport and also part for school requirements. After you have done that, click Next.
3. Right after that, PSA Helpline will ask if you are requesting for your own document or for someone else, whether for your father, mother, son or daughter. After deciding, you have to click the Continue button.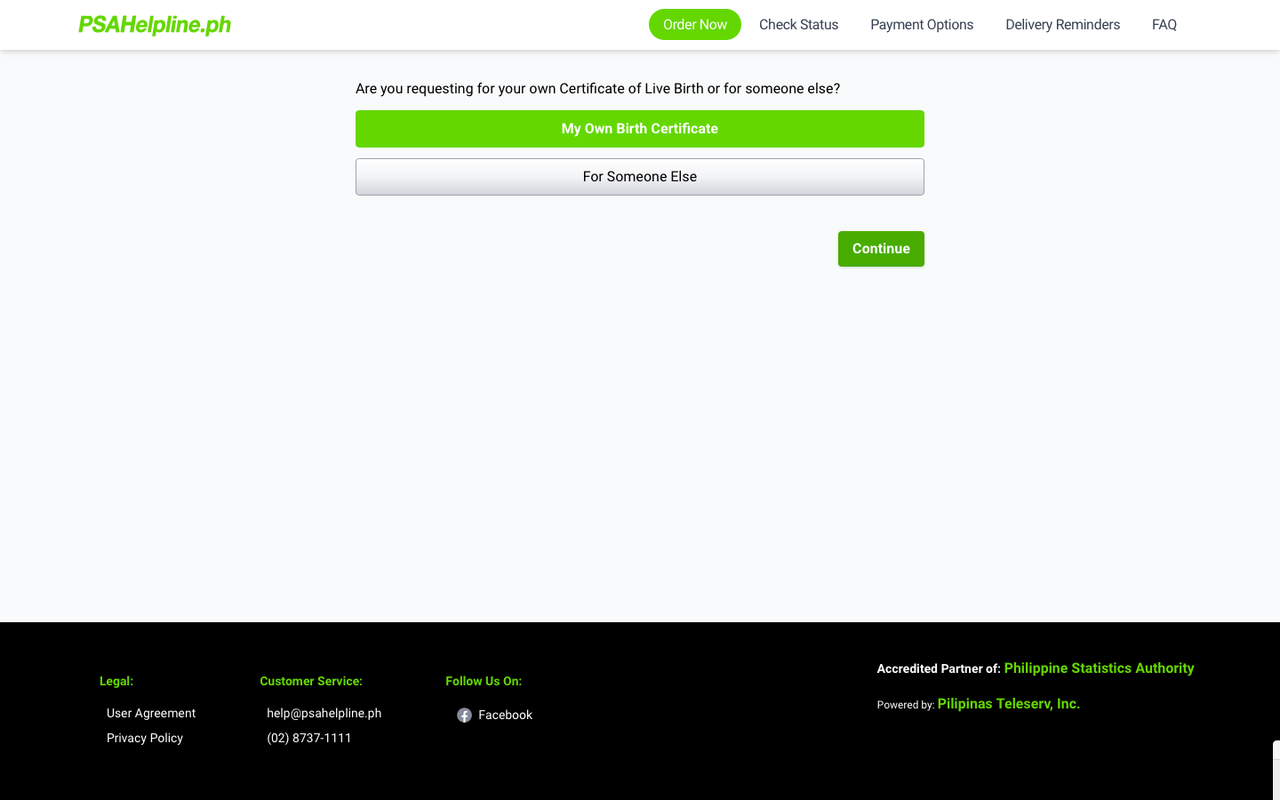 4. Once you click what the document is for, another window will appear to brief you on the details they will be asking thereon. If you will be requesting for your own Birth Certificate, for example, the following will appear.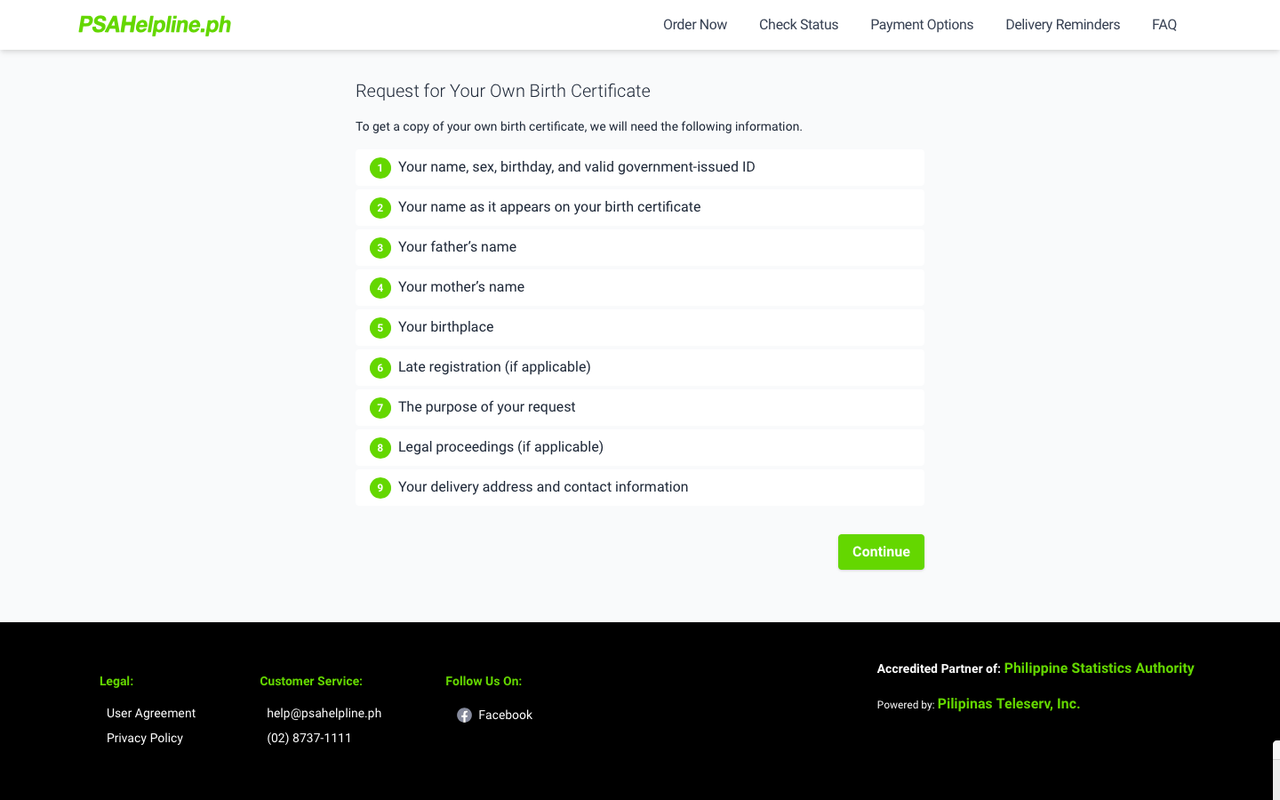 5. Right after that, you need to fill in the required information. You will also be asked for the purpose of the request. Simply click Next once you are done and you have to fill out another form for Delivery and Contact Information.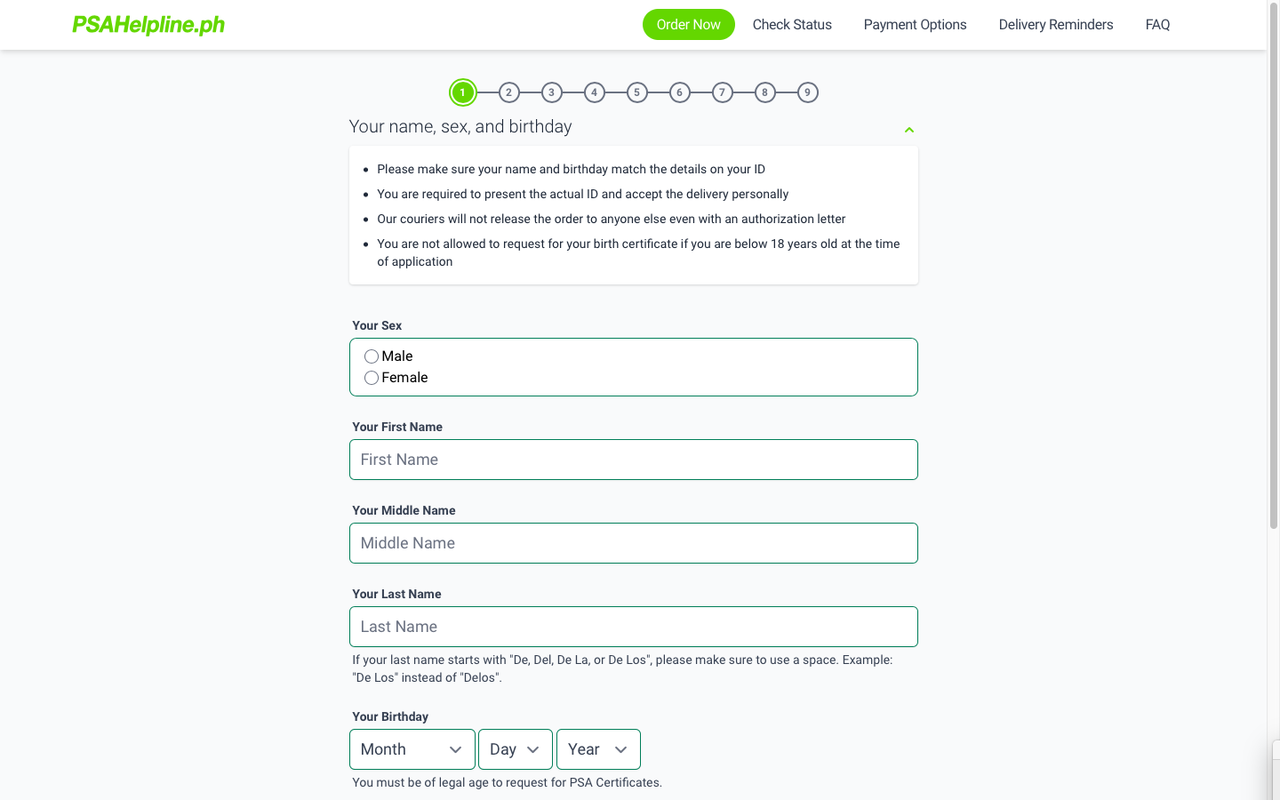 6. After clicking Next once more, a window will appear. It is the summary of all that you have entered. Thereafter, you have to input how many copies you will be asking, and then PSA Helpline will let you confirm that you will personally receive the requested document in the address that you entered and present the identification card upon receiving.
7. The next page will display the payment method you may use to pay for the documents. There are multiple methods that you may use, as shown in the screencap below.
Another good thing about PSA Helpline is they will send you another confirmation at your provided mobile number or e-mail address. For example, when I used the DragonPay, it will display as follows: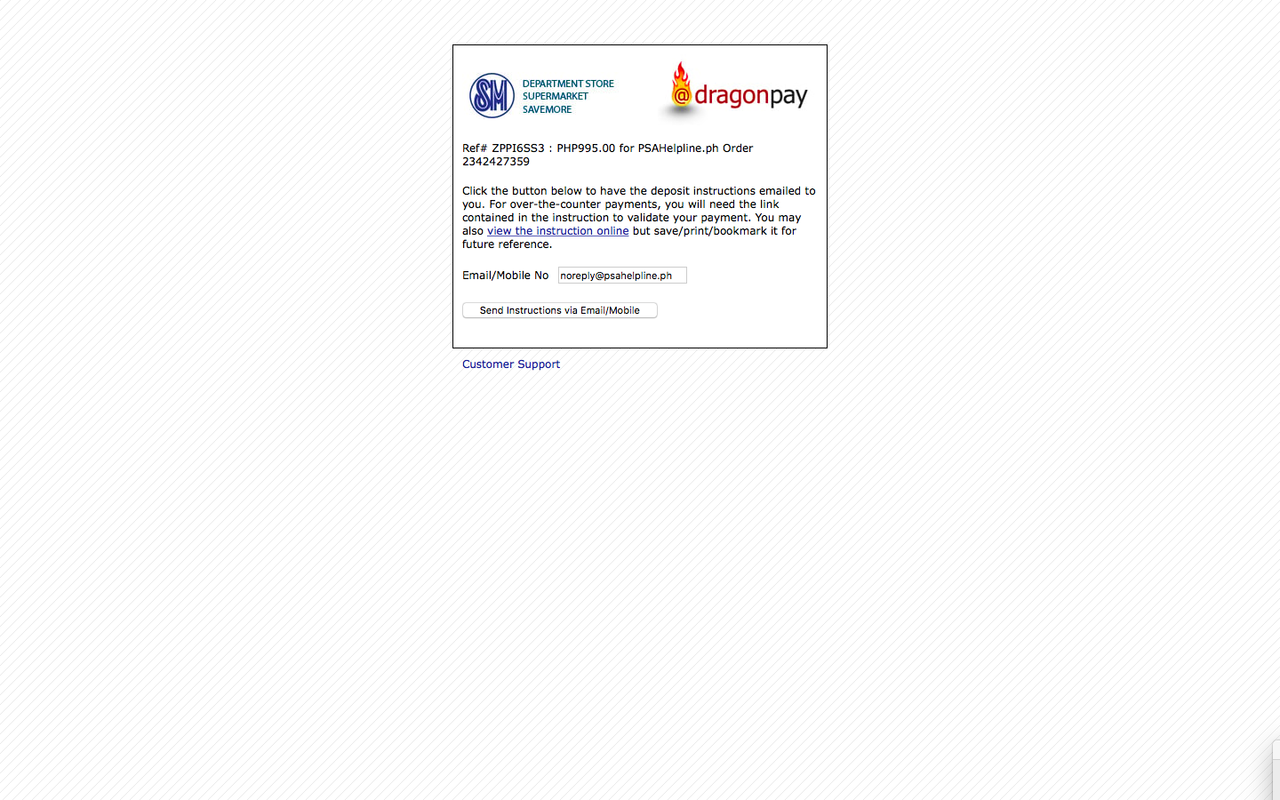 If you want to trace the status of your document days after you made the request and payment, you may visit the PSA Helpline homepage once more.

You may simply input the Reference Number and there you have it, you can follow the progress and where your document already is.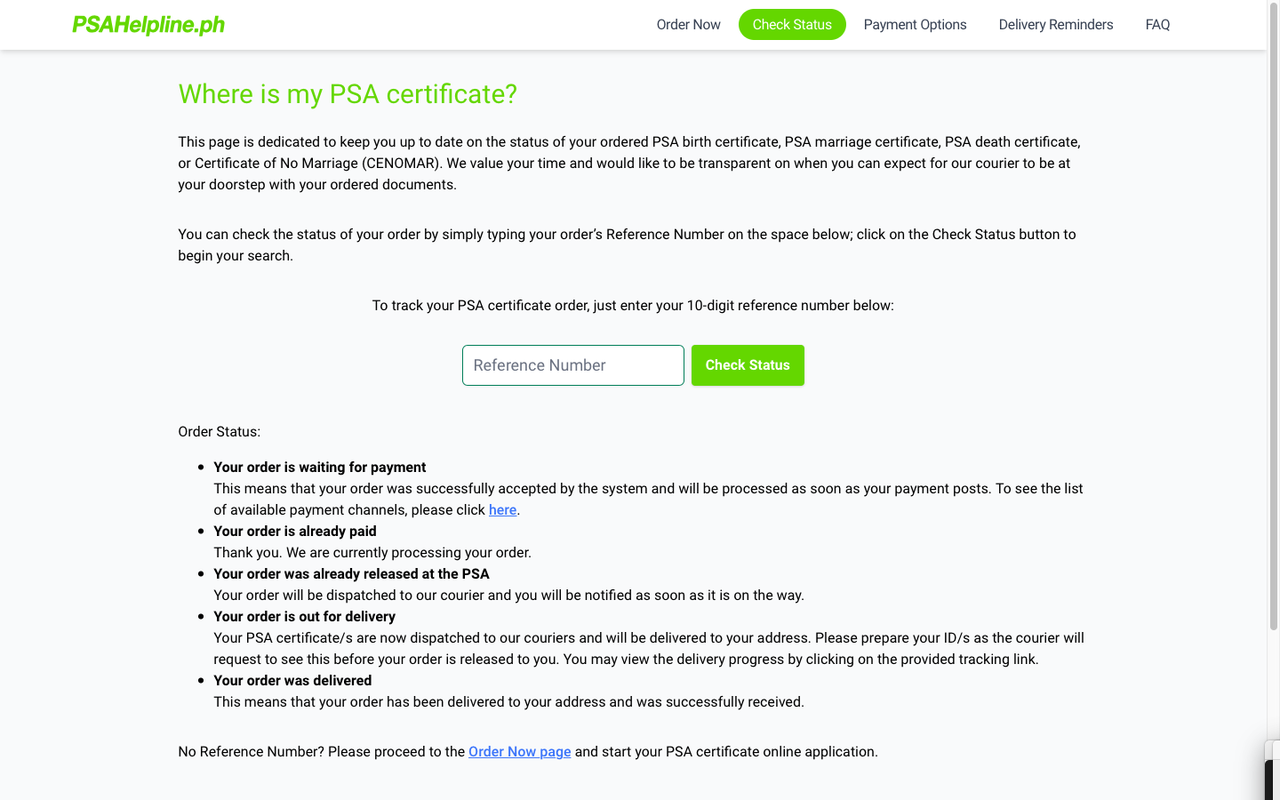 That is simply it. I hope the sharing I made would guide you through your request. If you want to know more updates on their services, PSA Helpline has an announcement box in their website as well as actively updates their office Facebook Page.